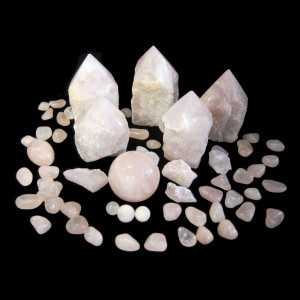 Valentine's day is just around the corner. A lot of people is already plan ahead for a romantic dinner in her/his special restaurant. Things to do on Valentine's day you can find easily on Google. The most difficult part is what should you bring for her/him to that night and make her/him feeling special and everlast memory. Our store located in the heart of Coral Gables, Miami. We have everything you need! We are the best gift store in town and we make beautiful gift wrapping for free. Everyday our staff always help the customer find the best gift for the one you love. One of the most popular Unique Items is the stones. We have varieties types of stones. Today the writer is going to talking about the stone for love. It is know as a universal love stone, ROSE QUARTZ.
What is the "Rose Quartz"?
Rose Quartz is a symbol of "LOVE". Rose Quartzs are known to bring trust, harmony, a distinct calming and a balancing effect into people's emotions and people's relationships. It is an excellent heart-healing gemstone. Also known to help in depression, mental problems, sexual dysfunction, and for treating any issue that needs emotional healing. Rose Quartz calms the emotions and emotional traumas just by holding this stone. It is opening your heart for inner peace, and encourages forgiveness.
There are two basic motivating forces: fear and love. When we are afraid, we pull back from life. When we are in love, we open to all that life has to offer with passion, excitement, and acceptance. We need to learn to love ourselves first, in all our glory and our imperfections. If we cannot love ourselves, we cannot fully open to our ability to love others or our potential to create. Evolution and all hopes for a better world rest in the fearlessness and open-hearted vision of people who embrace life. John Lennon
Since love grows within you, so beauty grows. For love is the beauty of the soul. The stone itself have a power to awakens our sense of beauty. But first you have to love yourself then to the other!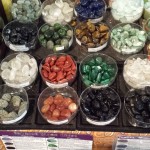 However, Rose quartz is not always look like a gentle stone. It can go deep into our subconscious mind to release the suppressed emotions, ease the emotional pain and soothe the sorrow and sadness.
Rose Quartz & Amethyst
Rose quartz works very well in combination with Amethyst, and is capable of soothing the Amethyst's energies. The benefits that Amethyst is bringing to the spirit, Rose quartz can deliver to the heart.
Is Rose Quartz for me?
Rose Quartz is a universal love stone. Love is for everybody. Therefore it is a great stone to be used as your personal use or as a decoration for your home. The unpolished rose quartz itself is very beautiful. Also the polished one can made to different shapes such as heart, egg, hexagonal. In form of jewelry, Rose quartz can be made to necklace, bracelet, earring, ring, pendulum and much more. It is a perfect gift for someone you care for. Visit Our Store Today!